Family

Parents


Wil Schroder is the son of Wilfrid R.
Schroder and Mary Magdalen
Arlinghaus who raised their eleven
children in Ft. Mitchell, Kentucky.
The Schroders were married for 66
years before "Mae" passed away
in 2003. At 96, Mr. Schroder still lives
in the family home that the family built
(literally).






A small group of the Arlinghaus
family having fun working together
on the last campaign trail.
Siblings


Mae and Wilfrid Schroder with
their 11 children.

Family


Judge Schroder and Nancy raised
their three children in Lakeside Park,
and were blessed with eighteen years
of marriage before Nancy succumbed
to cancer.
Married


Wil Schroder is married to Susan Wahlbrink of Fort Thomas, an Eastern Kentucky University graduate who is retired from her former position as the Unit Manager of Pretrial Services for Campbell and Kenton County.
Children


Judge Schroder is the proud father
of three children: Stephanie, Lydia,
and Wil. All three are graduates
of the University of Kentucky.



Stephanie also graduated from University of Kentucky Law School and practices law
in San Diego. Lydia also graduated from Loyola University in New Orleans with
a Master's Degree in Education and currently teaches middle school in New Orleans.
Wil is currently a student at Salmon P. Chase Law School at Northern Kentucky University.

Community

Throughout his legal career, Judge Wil Schroder has served on numerous civic boards, committees, and has joined various professional organizations
Kentucky Bar Association since 1970
Northern Kentucky Bar Association since 1983
Missouri Bar Association, 1972-74
Kansas City Bar Association,1972
Salmon P. Chase Inn of Court, since 2000
Covington FOPA, 1983 to 2003

Dave Thomas Celebrity Cookoff


Judge Schroder is a frequent volunteer "chef"
at the Dave Thomas Celebrity Cookoff at
Benihana to benefit the Tri-State
Adoption Coalition.
A yearly "Chili Judge" at the Newport Chili Fest for the Buenger Boys & Girls Club

Hope Cottage Board of Directors (for dependent children), 1986-1994
Covington's Committee on Street Kids, 1986-87
DARE, frequent graduation speaker while a district judge
Task Force To Study Redevelopment of Urban Areas (Legislative Research Commission), 1983
Public Defender Society of Northern Kentucky Trustee, 1981-82
Municipal Attorneys' League, 1982
Covington City Commissioner's ad hoc Committee on Landlord-tenant Relations, 1974-75
Northern Kentucky Legal Aid Society Board of Trustees, 1974-75
American Society of Planning Officials, 1971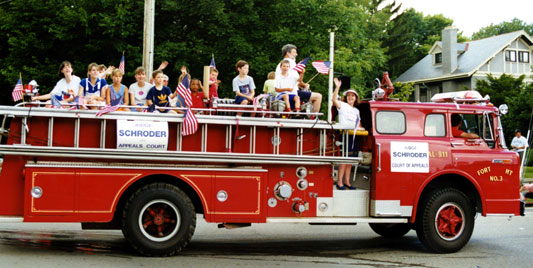 There is always time for a parade!

For almost 20 years, this Model A
has been Judge Schroder's parade
Trademark.
Honored as a "Life Fellow"


In Recognition of Outstanding Commitment
to Public Service and the Improvement
of the Legal Profession, Judge Wil Schroder
was honored as a "Life Fellow" by the
Kentucky Bar Foundation in 2005.